Resistive Network Integrity (RNi™)
New – RNi-XL with 100X speed up. Contact us for more details – sales@magwel.com
RNi™ rapidly takes complex metal and via networks and determines the resistance from each pin to any point in the network. This is extremely useful for finding stress points where there can be excessive resistance.
Problems with via arrays and metal wires are easily found using the graphical user interface and/or reports. Power and Ground nets can be quickly examined to find trouble spots.
No stimulus is required, so the analysis can be done at any time during the design process. Advanced extraction and circuit solvers accelerate performance and provide results in minutes.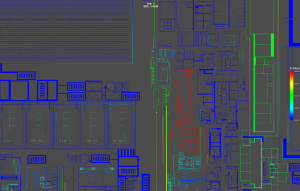 RNi™ extracts very quickly point-to-point (P2P) resistances in large nets from GDSII layout
P2P resistances are extracted between pads and any point on the net in one go
No stimuli are required, only top level pads
Plots a P2P resistance map of all metal and via layers
Can include substrate paths in the extraction
Helps you glance and quickly fix weak points in PDNs
Runs in minutes, enables quick turn-around-time
Easy to set up and to use